Skip to Content
We Can Alleviate Your Lower Back Pain After an Auto Accident
Any time you are involved in an automobile accident, its violent nature can cause significant back pain. Your pain may be the result of vertebrae being out of alignment, muscle strains, ligament sprains, or other factors. Nevertheless, back pain can make it difficult to even get out of bed in the morning, much less complete your daily activities. For help alleviating your discomfort, rely on the team of chiropractic professionals at Boston Chiropractic Spine & Injury Center. At our state-of-the-art clinic in Boston, MA, you will receive expert care using technologically-advanced equipment and proven techniques. Back pain does not have to be a lifelong impediment. Call us today to learn how we can help you.
Auto Accidents Are Among the Leading Causes of Back Pain
Regardless of the nature or severity of your auto accident, you may experience pain, discomfort, or uneasiness along your spine and in your lower back. Sudden changes in direction as the result of an automobile striking another car or object accompanied by safety restraints can damage a wide range of processes in your back. Common back pain diagnoses following car crashes include:
Discogenic Pain
Related to the discs in your spine, this form of back pain affects the round pieces of cartilage that cushion and stabilize your spine. It is most common in the lower back.
Lumbar Strain
These sprains in one's lower back are associated with physical trauma that causes the ligaments, muscles, and tendons to stretch. We can diagnose this condition using simple imaging techniques.
Herniated Disc
Also known as pinched nerves or slipped discs, this occurs when the inner lining of the discs that separate your vertebrae rupture and affect the surrounding nerves.
Spinal Stenosis
Pain from spinal stenosis may happen following a car crash if a disc or ruptured bone fragment intrudes upon the spinal canal's space.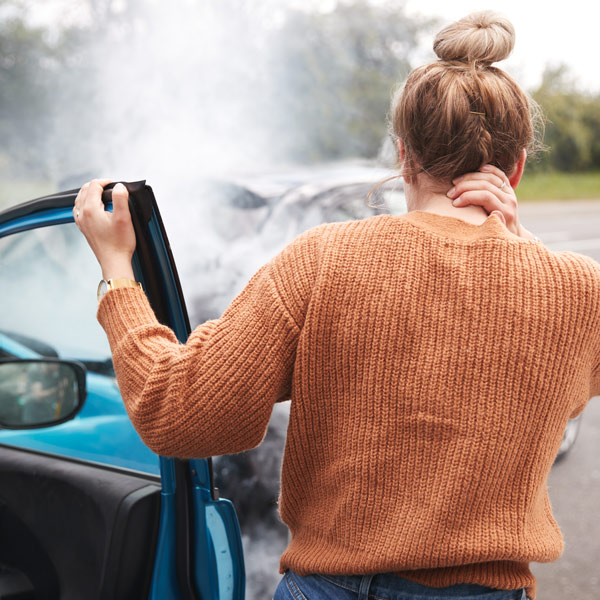 Our Team Provides Expert Chiropractic Care
Back pain is not something that you want to merely manage or tolerate. You need the help of professional chiropractors to relieve the discomfort and restore stability so that you can live a normal life and remain active. Our team will use modern imaging technology to diagnose the source of your pain before developing a course of treatment to restore your health. Most commonly, we will use spinal manipulation techniques to realign your vertebrae and discs while also relieving tension in your muscles and ligaments. Professional repositioning of your spine and muscles can also ease discomfort in your head, shoulders, neck, and hips.
Call Us Today to Schedule Your Appointment
When your back hurts, you will feel pain with every step you take and every twist of your hips. It is both debilitating and agonizing, especially if you are accustomed to living an active lifestyle. Auto accidents can alter your pain-free existence in an instant. The impact of another car hitting yours can cause muscle spasms, spinal misalignment, and herniated discs. But the team at Boston Chiropractic Spine & Injury Center can help. We are proud to help patients throughout Boston, MA by alleviating their back pain so that they can get back to their lives.
Call Boston Chiropractic Spine & Injury Center for Expert Treatment Today